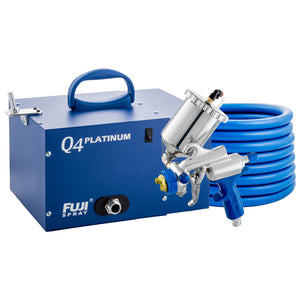 GXPC-2894 Q4 PLATINUM™ Quiet System w/Gravity Gun
---
---
For Paint Contractors spraying Latex House Paints most of the time and for those persons who simply want the best, Fuji introduced a more powerful, 4-stage HVLP PLATINUM™ Turbine System. The Q4 PLATINUM™ 4-stage Turbine Motor develops approximately 9 psi, allowing for less thinning of paints. The Q4 PLATINUM™ System is perfect for fine-finishing of cabinets, furniture, automobiles as well as heavy-duty painting projects.
Available with the GXPC Gravity Gun that features the side mounted 400cc Gravity Cup and the tilt feature which easily allows the operator to spray in any direction including upwards.
What's new in the Q PLATINUM™ Series?
The Fuji Spray Heat Dissipation Chamber™
The Heat Dissipation Chamber™ (HDC) expels excess heat from the turbine resulting in much cooler operating temperatures.