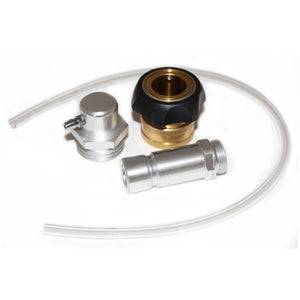 7518 Upper Air Conversion Kit - T-Model
The T-Model Spray Gun can be converted to a bleeder style Spray Gun.  This will result in a continuous flow of air from your Spray Gun.
Many bathtub reglazers prefer to connect the hose to the upper portion of the Spray Gun instead of the base of the handle to spray in constricted spaces.
The T-Model Upper Air Connection Kit (part# 7518) is made up of the following parts:
Part # 2046 – Quick‐Connect Coupler
Part # 7510 – Upper Air Connector
Part # 7511 – Lower Air Connector
Part # 2023 - Nipple
Part # 2024T – Pressure Tube