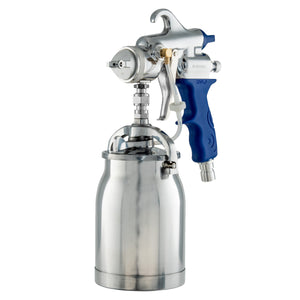 7001 M-Model Spray Gun
The Fuji M-Model Spray gun features a Non Bleed gun with Rear Pattern Control Knob.  Aircap Set #3 (1.3mm) is installed.  NOTE:  The parts for this Spray gun are not compatible with other Fuji Sprayguns.
The 7001 M-Model is the spray gun of choice offered with all of our Semi-PRO 2 stage systems.  This spray gun with 1 Qt. Bottom Feed cup is perfect for any weekender or hobby enthusiast and gets the job done.