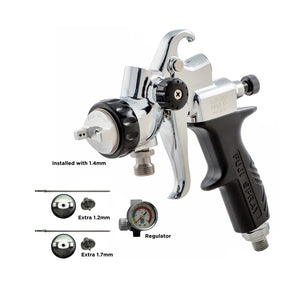 6260P-LX-N-14K LX-20™Pressure Feed No Cup
The Fuji LX-20™ is a general purpose spray gun perfect for all types of professional spray finishing. It can handle with ease all types of coatings including high solid materials. This spray gun is designed for use in a production setting.
LX-20™ spray gun (pressure feed)

2 extra air cap sets included (1.2mm & 1.7mm)

High-pressure regulator gauge
VOC-compliant
Recommended 15.2cfm at 26psi
1 year manufacturer's warranty
*If you wish to use the 3M PPS with the LX-20™ spray gun, we highly recommend choosing the gravity-fed variant.