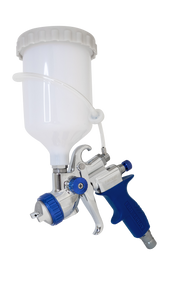 5175G T75G Gravity Spray Gun w/ Nylon Gravity Cup
T75G Gravity Spray gun. Features Pattern Control Knob and Non-Bleed 600cc Nylon Gravity Cup. 1.3mm aircap set installed.
The T-Model delivers an enhanced spray pattern for exceptional performance.  An exclusive side mounted pattern control knob allows the user to easily adjust the fan pattern.  The new sleek design is ergonomic and well balanced.  Overall the T-Model is 20% lighter which allows for easy maneuvering and less fatigue on the operator.
Now installed with a 600cc nylon gravity cup and lid. The lid on this nylon cup provides a perfect seal with no gasket required. 
This Non Bleed HVLP T-Model Spray Gun also features the following…
Canadian technology
1.3mm Air cap set
Center mounted 600cc nylon gravity cup
3 Additional Gravity Cups available
Stay-cool nylon handle (fitted over a metal tube)
Metal fluid knob and collar
Rear rotating nipple for pressure tubes – makes for easier adjustment especially for those who are left handed.
The benefits of non-bleed include...
Less blowing around of shop dust and negligible turbulence in the spray area.

Less paint buildup on the tip of the Fluid Nozzle (because the Fluid Nozzle does not get a chance to heat up).

Spray gun noise (hiss of air) appears to be lessened, because now the hiss of air is intermittent.
The New Fuji T-Model with all these exceptional components is a leader in the market.  You will achieve that flawless performance & remarkable outcome every time you use it.
Please note* Fuji Spray Guns can only be used with an HVLP Turbine (any make). They cannot be used with standard compressors.