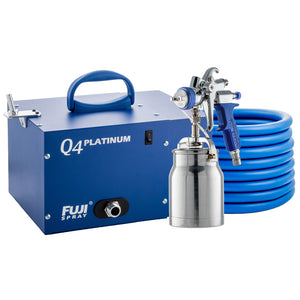 3004-T70 Q4 PLATINUM™ Quiet System w/Bottom Feed
---
---
For Paint Contractors spraying Latex House Paints most of the time and for those persons who simply want the best, Fuji introduced a more powerful, 4-stage HVLP PLATINUM™ Turbine System. The Q4 PLATINUM™ 4-stage Turbine Motor develops approximately 9 psi, allowing for less thinning of paints. The Q4 PLATINUM™ System is perfect for fine-finishing of cabinets, furniture, automobiles as well as heavy-duty painting projects.
Equipped with a Fuji Spray T-70 and 1qt. Bottom Feed Cup.
What's new in the Q PLATINUM™ Series?
The Fuji Spray Heat Dissipation Chamber™
The Heat Dissipation Chamber (HDC) expels excess heat from the turbine resulting in much cooler operating temperatures. Supplied with the Fuji T-70 Non-bleed Spray Gun with Pattern Control Knob - the fan size is adjustable from small to large and everything in between (fully incremental).