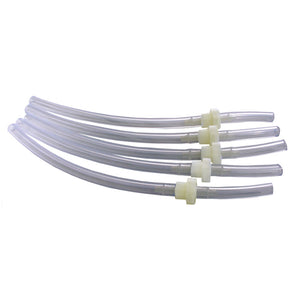 2024L-5 Pressure Tubes (5)- LONG For Gravity
For T-Series Gravity and XPC Gravity Spray Guns. Pressure tubes with check valve installed. Available only in packs of 5. These tubes fit all Fuji spray guns. If clogged, the check valve cannot be taken apart, however, they can be soaked in thinner for up to 30 minutes to free any blockage.
Please note: The gravity pressure tubes are likely longer than you may need. When cutting them to reduce length ensure that they have a straight edge to easily fit onto the nipple.
If you are purchasing pressure tubes for your Bottom Feed spray gun please refer to 2024-5.